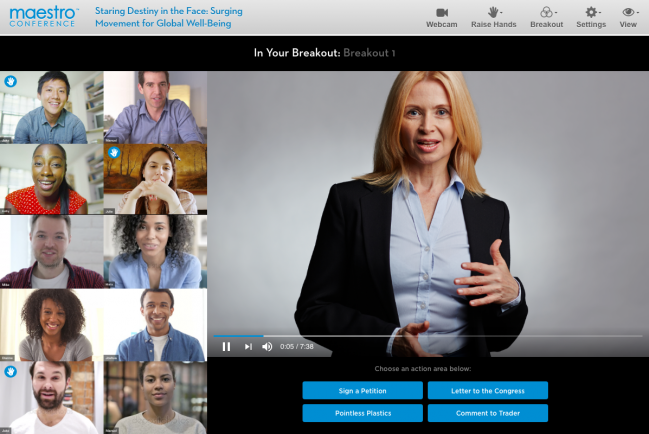 Reading Time:
9
minutes
If you are trying to engage a dozen or hundreds of people online AND interactively, all at once, you're probably using virtual breakout rooms. Since that's our specialty, we want to highlight and compare MaestroConference Video vs. Zoom breakouts.
As you might have seen, we polled zoom breakout users (500+ people responded, 200+ surveys submitted and still counting) about their biggest frustrations with zoom breakouts, and found that our platform already addresses 9 ½ of the top 10 concerns raised (with 9 already done, and the last one- customizable, visual timers- in development).

And an even more dramatic difference between zoom breakouts vs. MaestroConference Video is perhaps the crowning jewel for engaging many parallel groups, our new "Guided Breakouts." This newest feature (which no other platform offers) can be used to guide each breakout group through a sequence of questions, activities, or video instructions as designed and programmed by the host in advance. (So, no more "what was the question again?" in your participant breakouts.)
Let's first take a look at the top 10 complaints that Zoom breakout users have expressed, and how MaestroConference Video compares, and then we'll introduce you to Guided Breakouts (for your live AND asynchronous virtual events!).