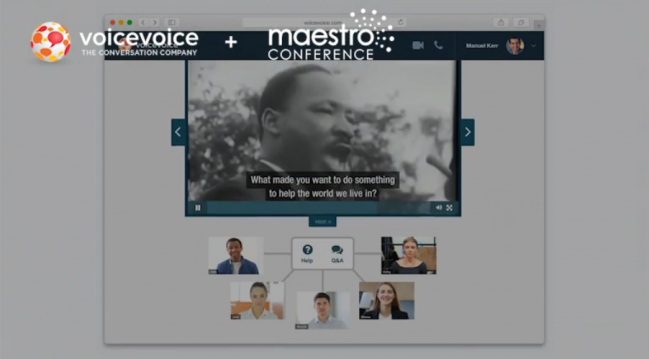 Reading Time:
6
minutes
Every week, I read the comments people leave for us after they've participated in an event on our platform. Albeit a good use of time, this exercise has proven to be a rollercoaster of emotion as I get to read the great, good, not so good, and on occasion, vicious comments left by participants (notes to self: "people are mean…sticks and stones…every little thing is gonna be alright…")
And then from time to time, I get a nugget of inspiration/motivation/reassurance that we're on the right path, like this review:
"MaestroConference is also a service that supports our collective benefit at this crucial time. I remember being ecstatic 7 or 8 years ago when I caught on to what MaestroConference was enabling, both for me personally and for our collective awakening, for the first time in human history: a supremely user-friendly, reliable platform that allows like-minded people from all over the world to come together around important shared objectives. And since then its worth has been proven over and over. " ~ Kristin N.
As you may have read on our blog, we're on a mission to light up the world with the power of purposeful conversations that can change the world through dialogue and action, conversations like the one Kristin N. describes that support "our collective benefit at this crucial time."
And so, as we begin to embark on a new year with feverish anticipation/excitement, we'd like to take a moment to reflect on the ways our platform has helped "like-minded people from all over the world to come together around important shared objectives" last year.
With that in mind, here is a list of some of our proud accomplishments from 2017:
Short on time? Here's the TL; DR (too long; didn't read) version:
Added new features to the MaestroConference platform – e.g. Custom Audio, Visual Polls, Opt-in Offers – and hosted 1000's of inspiring events featuring amazing speakers, including some of the world's most influential brands and thought leaders- Oprah, ACLU, Women's March, FWD.us, Joe Biden, Stand Up America, The Atlantic, to name a few.

Announced our brand new platform: VoiceVoice, technology for conversations. Extending well beyond traditional conferencing, our new technology is currently in very private beta testing with a handful of select customers. We plan to launch VoiceVoice to the general public in early 2018. Stay tuned.
In support of the new VoiceVoice platform, we launched a new equity crowdfunding campaign so that our community of supporters, fans, customers and friends has the opportunity to join us in building a successful, positive global impact organization while also sharing in the potential financial returns of investing in an early stage, purpose-driven technology company.