Create Better Video Breakouts, Faster, Easier: Meet the New MaestroConference Video
MaestroConference Video was created for virtual meeting hosts who want to give their participants the chance to share their voice, connect with others, accelerate learning, and collaborate by leveraging video breakouts + deep, online engagement tools.
We've been building the platform to address the limitations that we've heard from facilitators when it comes to other video conference tools, Zoom breakouts especially.
We surveyed trainers, coaches, event professionals and asked for their feedback on zoom breakouts (what they like/dislike about them) and received over 1,000 responses.
We then distilled those survey responses into a list of top frustrations with zoom breakouts: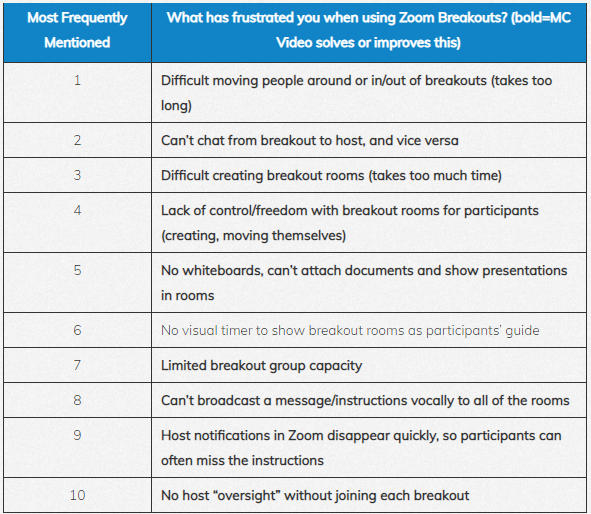 We've made many advances with MaestroConference over the last year, most of which we never officially announced on the website (btw, an extensive website redesign is currently underway).
If you haven't been on the platform lately, we welcome you to learn about some of the (many!) enhancements below-or come see for yourself: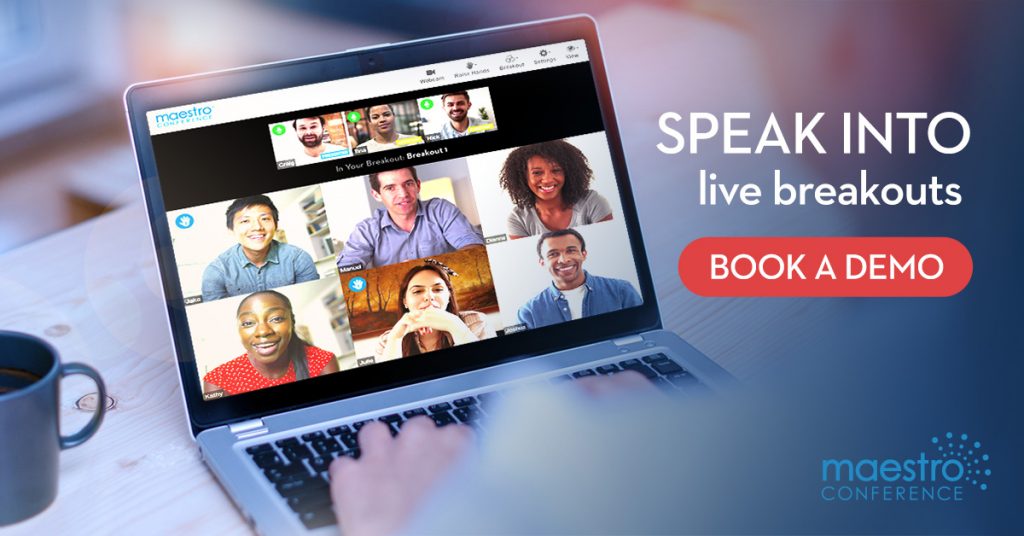 So What's New at MaestroConference? (A LOT!)
Update #1: See all of your participants on VIDEO- new meetings start on video by default.
The biggest, most obvious update you'll notice- MaestroConference now has full video! Adding video capabilities to the platform was the single most requested feature, by a wide margin, over the last 5 years, so we're excited to announce this.
The new MaestroConference Video platform incorporates everything the millions of MaestroConference users have come to love over the last 11+ years plus video feeds for hosts, assistants and all of your participants.
Update #2: Create, start, and enter your meetings in under 60 seconds with just a few clicks (4 clicks, to be exact).
We've made it super fast and simple for you to launch your first MaestroConference meeting (for both video and/or audio customers).
Hosts can create, start and join an event in as little as 2-4 clicks- get started with your event in almost no time (less than a minute).
Here's how:
Once you're logged into your account, click the green "Create Meeting" button and fill out the required fields (meeting name, call type, start and end date/time, duration, estimated number of attendees)
Click "Create Meeting"- your event is now created
Click "Start Meeting"

A pop-up box will appear with pre-created, pre-assigned PINs and roles to choose from (plus an option for you to create your PIN). Highlight the PIN of your choice and click "Continue" – which opens a new tab where you'll be connected to the Meeting (audio and video).
That's it- you're connected to your meeting. Compared to the previous version, this newly streamlined process cuts the amount of time it takes to start a meeting by more than 50%.
Update #3: Your Meetings have more options for deep engagement and interaction than ever (read about some of them below)…oh, and by the way, "Social Webinar" will now be, simply, the "Meeting."
The "Social Webinar" has, for many years, been MaestroConference's visual interface for hosts who want to produce more interactive events- where hosts could manage what their participants see and do. With Social Webinar, the presenter could let their participants view breakout groups, go to a website, view poll results, watch a screenshare, view all participants on the call, and edit documents collaboratively.
Well, as of May 2021, the "Social Webinar" has officially been retired in favor of, simply, the "Meeting." Where you may be used to seeing "Social Webinar" in your account, you will now see Meeting instead (to be honest, customers often thought that hosting an event using Social Webinar meant you had to plan and produce a typical "webinar"- which was never the case. Social Webinar was originally designed as a new, more interactive way for hosts to manage their event and engage their participants, but it did not require you to host a webinar to do so. We understand that was confusing, so we've clarified it by rebranding as the "Meeting").
And all the things experienced hosts and facilitators loved about Social Webinar for managing the audience- e.g. mute/unmute participants, create breakouts, see handraises, etc.- can now be done directly within your Meeting. Which brings us to our next major usability enhancement…
Update #4: Host your meeting AND manage your audience in one tab- the Conductor Interface now opens directly within your meeting (i.e. no more multiple tabs)
The Conductor Interface (i.e. the dashboard where the host can see who's joined the meeting, view the list of participants and their registration data, watch hand raises) can now be opened directly within the Meeting (fka "Social Webinar").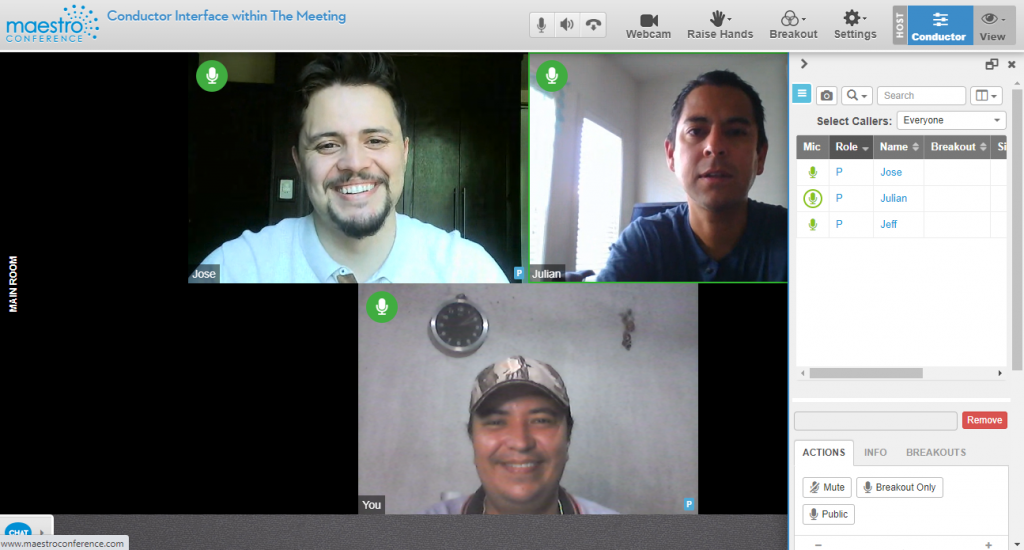 This upgrade makes it much simpler, more intuitive and easier for you as the host (or presenters and assistants, for that matter) to participate and be present in your event while managing your audience at the same time.
You can open the Conductor Interface as a floating window or as a sidebar, drag and resize, or even maximize it to see more of the control options, all from inside your meeting. No more toggling back and forth between one tab for "being" in the meeting and a second tab for managing microphones, moving people into breakout rooms, etc.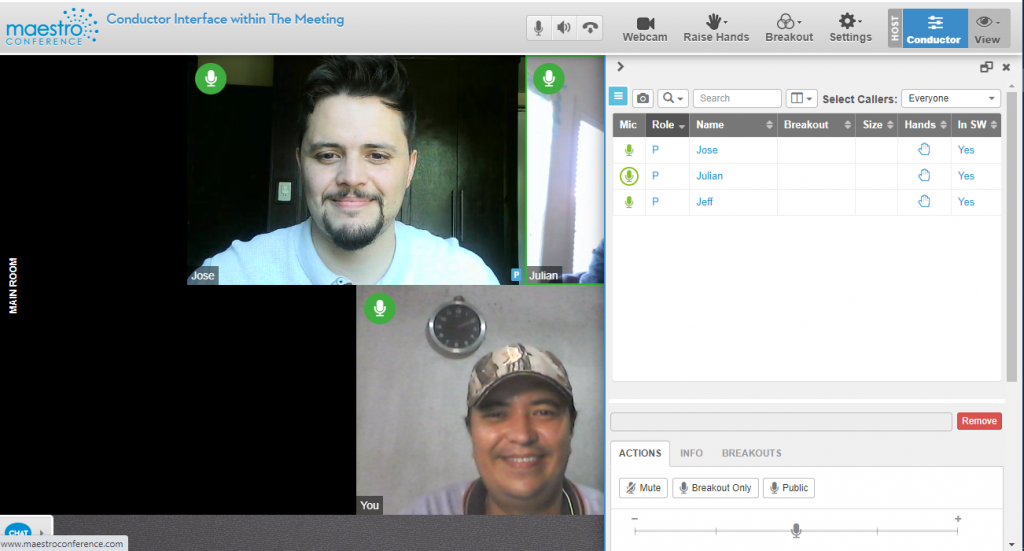 This is a big change for MaestroConference and a huge step in the direction of making the platform simpler, easier, more intuitive (and, some may say, more like the other conferencing platforms people have gotten used to over the last 1.5 years or so).
And I'd like to point out- this update was made in direct response to real customer usage and feedback so sincerely, thank you for your comments!
To learn more about how to use the Conductor Interface within your meetings, check out the support doc here.
More Tools + Features for Deep Engagement + Interactivity = More Powerful Meetings
Update #5: Get a bigger picture of what's going on in your breakout rooms with the Invisible Monitor
MaestroConference has always had the option for hosts to invisibly "walk the room" and monitor their breakouts. And with the addition of video to the platform, hosts can now silently/invisibly monitor live video groups and "walk" between breakout rooms- see and hear how the discussions are going, gather valuable insights, and provide help instructions; switching from breakout to breakout is instant with a single click. This isn't possible with Zoom.
You can learn more about Invisible Monitor for Video Breakouts in this support article.
Update #6: Hosts can speak into, interact with and broadcast a message/instructions to video breakouts
This is easily one of the most frequently cited frustrations/limitations from zoom breakouts- the host's/facilitator's inability to speak into breakouts to offer guidance and instruction (zoom hosts can only instruct breakout groups by broadcasting a short, written text message that appears on screen for ~15 seconds).
With MC Video, the host can SPEAK INTO groups via written text, audio or video to give instruction, another exercise or a new prompt. Written text messages stay on screen until you choose to remove them. Even better, hosts can make audio or video announcements to all the rooms (e.g. "We have about 5 more minutes") or even do video Q&A while participants are still in breakouts. Everyone in the breakout groups will see you and hear you.
And finally, see below for details about the even more powerful Guided Breakouts, our newest feature that takes instructing and communicating with your breakouts to a whole new level.
Update #7: Keep your events on schedule and your participants on time with Visual Timers in Breakouts
Another top frustration we heard from zoom breakout users was that there was no visual timer in breakout rooms to guide the participants in their discussion.
We've recently built and released that feature- specifically, timers can now be shown for participants within your Guided Breakouts (aka the built-in VoiceVoice integration).
Page Timers in MaestroConference show a small countdown timer at the top right of the screen and serve as a great way to manage the overall conversation time. Timers don't provide a hard stop per se, but rather, act as a reminder to the group to not spend too much time on any single question or activity.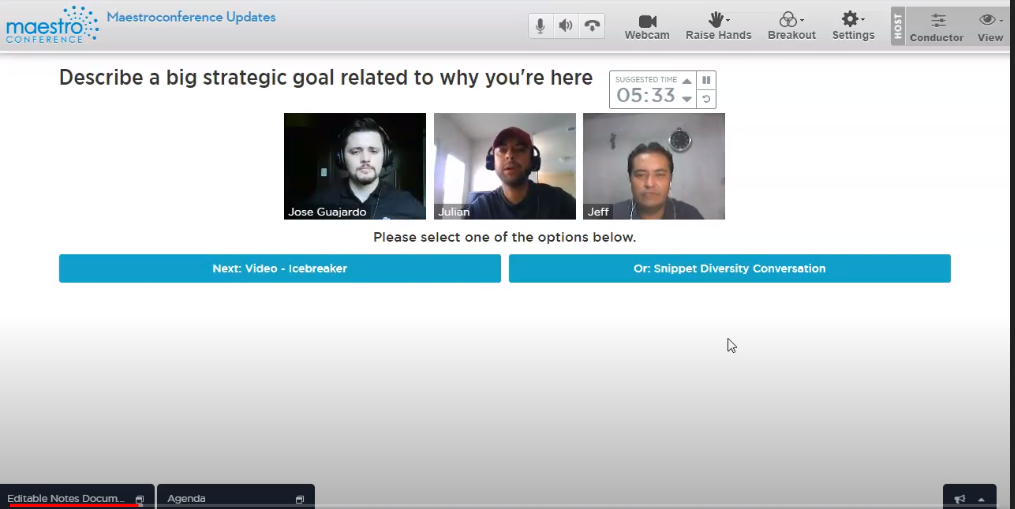 When the timer reaches zero, a small "Time's Up" message is shown to participants. Participants can also add or subtract minutes, pause/resume the timer, or simply hide it and ignore it.
To learn more about how timers work in MaestroConference, you can read this support article on VoiceVoice (note: Page Timers are programmed in your VoiceVoice account but show up in your MC Video event).
Update #8: Your favorite third party apps (e.g. Mentimeter, Slido, GroupMind) can now be integrated into your MC Video meeting
If you're looking for an added element of interactivity within your meeting, this new feature will be very useful.
Kahoot, Slido, Mentimeter, Typeform, YouTube Live (for live streaming), GroupMind, and MANY other third-party, cloud-based applications can be incorporated into your MC Video event (again, via the VoiceVoice built-in integration).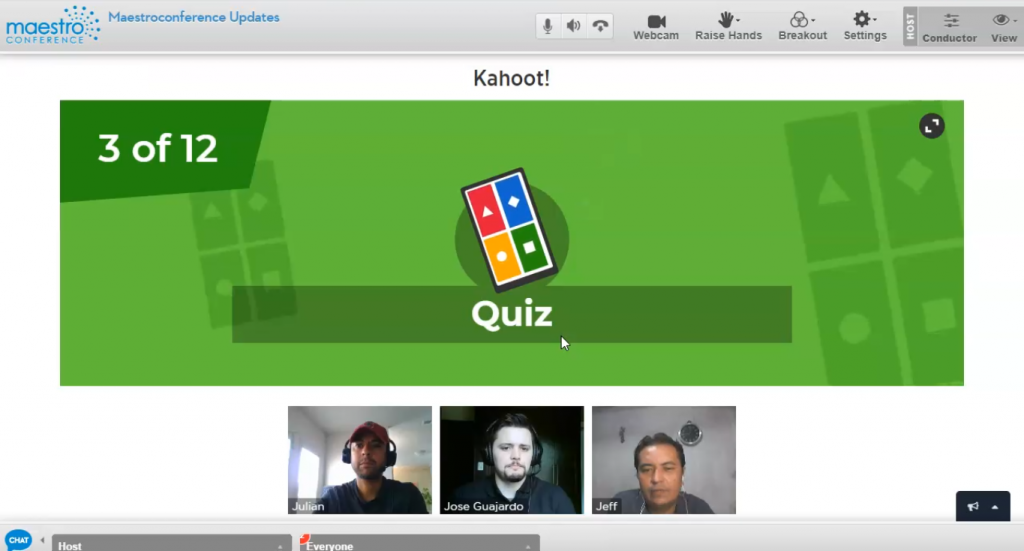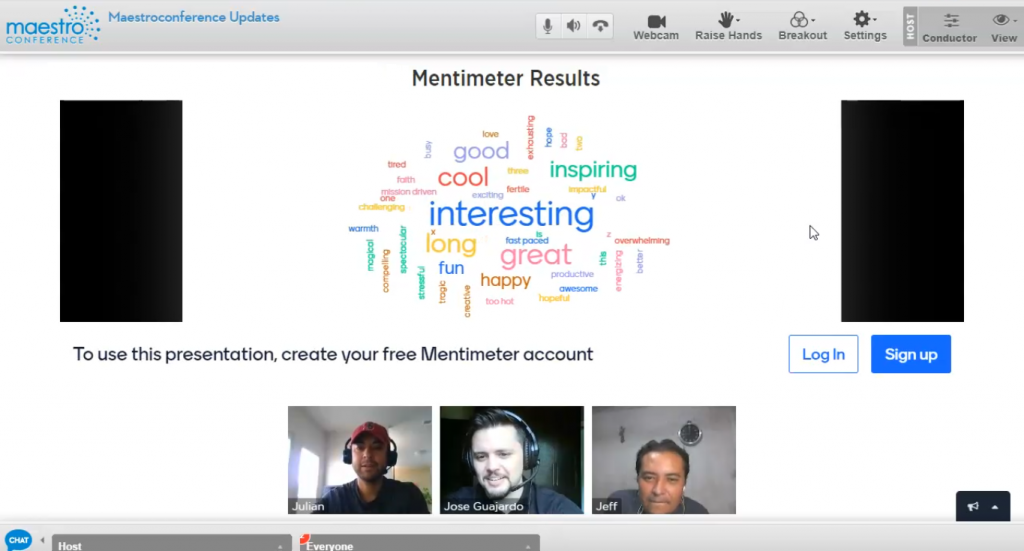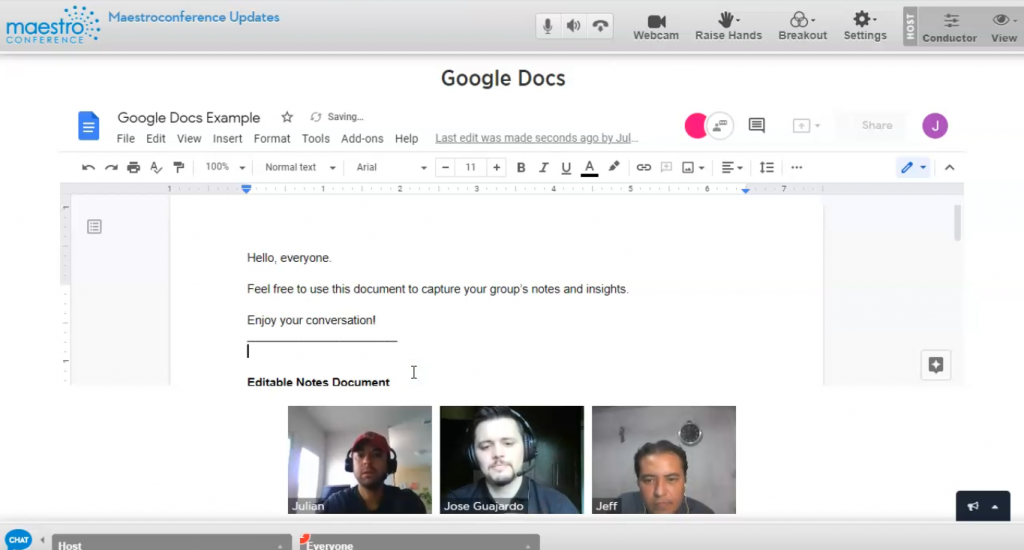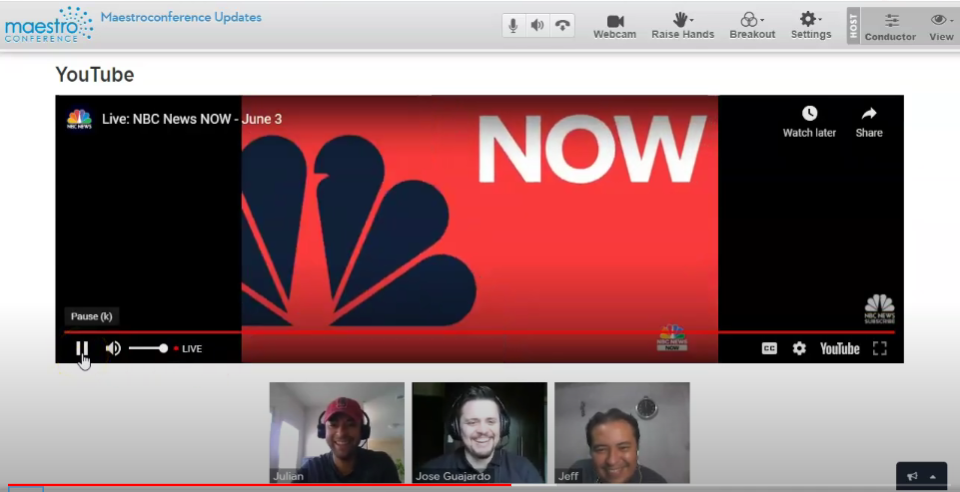 Whether the goal for your meeting or event is remote collaboration, group work, note taking, idea generation, polling, collecting surveys or feedback, taking optins, game-based learning, audience interaction, brainstorming or crowdsourcing, you can now integrate apps directly within your MC Video event to meet those goals.
Update #9: Do better video breakouts- with Guided Breakouts, THE most engaging, effective and productive video breakout experience
A massive difference between Zoom breakouts vs. MaestroConference Video is perhaps the crowning jewel for engaging many parallel groups, our newly introduced "Guided Breakouts."
This powerful new feature- which no other platform offers- can be used to guide each breakout group through a sequence of questions, activities, or video instructions as added by the host in advance.
Using Guided Breakouts, the host does NOT need to have a facilitator or host in each breakout group and yet the participants are still able to get the guidance they need for a productive, enjoyable, worthwhile discussion. (In other words, no more "what was the question again?" in your participant breakouts.)
With MaestroConference's Guided Breakouts, the host can set up a series of instructions in advance- e.g. discussion questions, video content, web applications, slides, timed reminders, a set of paths that the group can choose from, and much more; each group advances through the pre-recorded guidance, not as an individual but as a group, navigating through instructions and actions at their own pace. There's no missing "what the question is" at this moment because it's highlighted and even animated for the group. The breakout groups are "guided" by the platform, making for a far more effective, intuitive, engaging experience for participants.
There's SO much more to tell you about these better video breakouts that we created dedicated articles for what Guided Breakouts are/can be used for (blog post) and how to set them up (support article).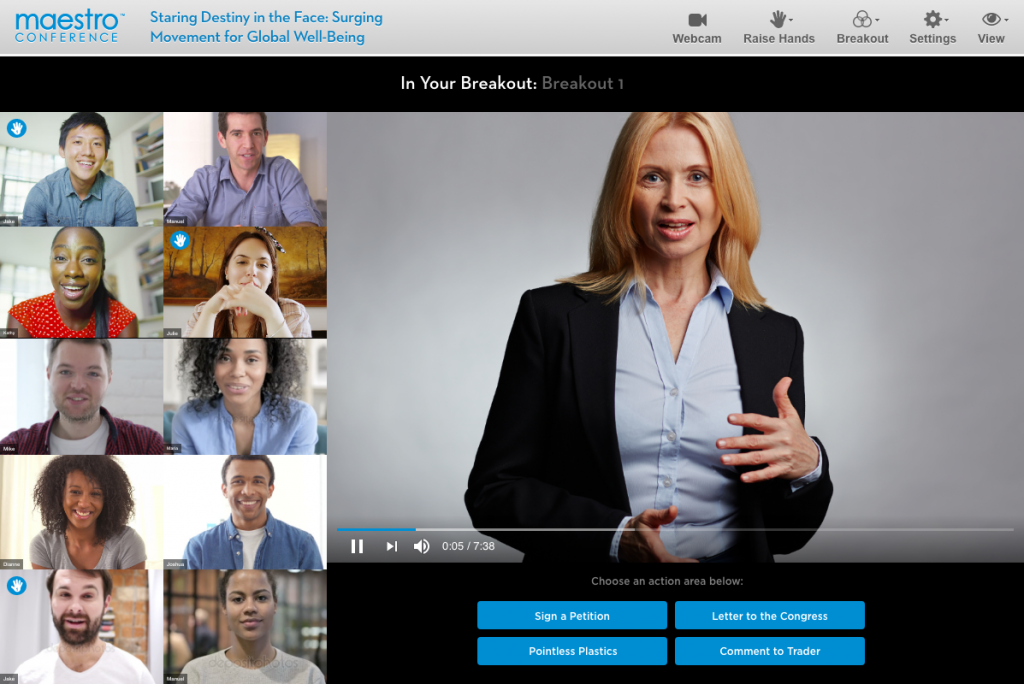 Update #10: Have participants live collaborate simultaneously on a shared google doc in the main room and/or within their breakouts with Text Editor
Hosts can use the Text Editor feature to enable all participants to collaborate in real time on a shared Google Doc- great for crowdsourcing ideas, taking notes or writing key takeaways, working on a content piece together.
This collaboration activity can be done in the main room and/or within breakout rooms and the shared document(s) can be viewed by all participants at the same time.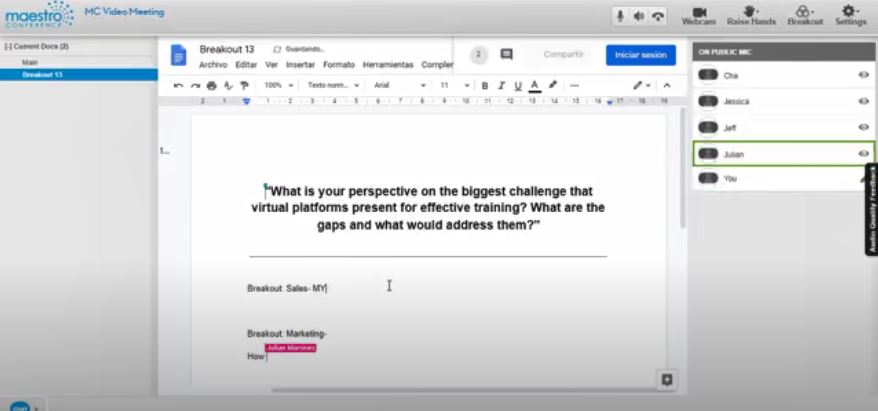 Text Editor (Main) is used to collaboratively edit one centralized document with all participants in the Main room of your event.
The Text Editor (Breakout) is used to create one document per breakout room. (note: *Breakout documents are not private to that breakout. Participants can see and edit documents from other breakouts.)
To learn more, visit the Text Editor support article.
Update #11: Share content with your participants, guide them through the purchase process, have them take action on a website with Interactive Browser
Co-browsing a website with your participants while on a video meeting is a very powerful engagement tool, not only to share content, but to guide participants through a purchase, a sign-up or any other action on a website.
Using Interactive Browser, as a host you have full control of the navigation so you can make sure everyone is seeing the same page, and you can even set up separate co-browsing sessions per breakout and let participants take control of the navigation.
Everyone views the website together, but everyone's browser is independent of the other participants (i.e. my mouse and form fields are private to me even though we're all viewing the same page).
May 2021 Update: You can now embed more sites within the Interactive Browser- check if your website or page is embeddable with this tool https://jsfiddle.net/westonruter/6mSuK/
To learn more about Interactive Browser, visit this support article.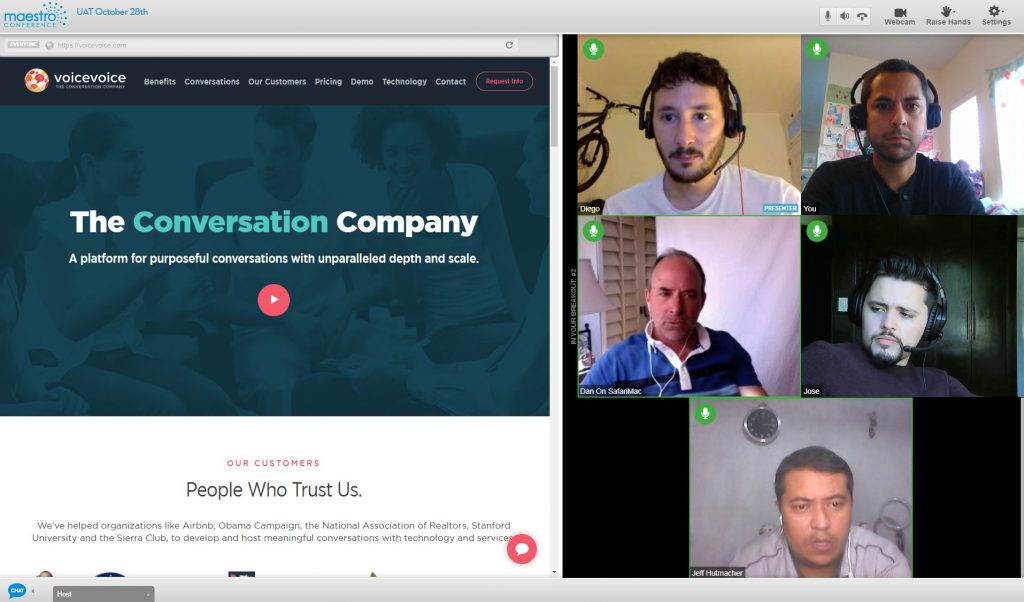 Update #12: Show everyone a video, play music for your audience, watch/pause/stop a recording for your participants with YouTube View.
You can now watch videos with your participants at the same time – and control what they see when, so you can talk about the video in the middle of it and they won't get lost.
Use YouTube View to play welcome music; pre record a welcome video and play it at the start of the event; show a short video snippet to illustrate your point.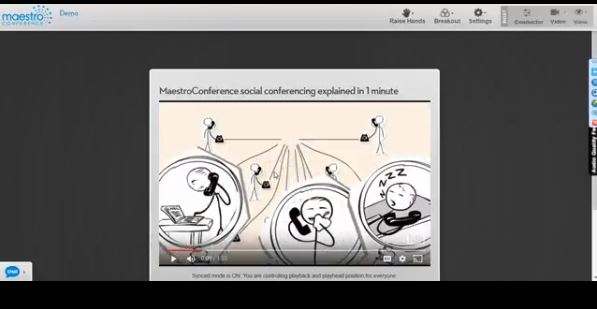 By default, only staff will have the permissions to control the YouTube video, but you can also give people the option to be able to control viewing on their own. The controls include Play, Pause, Forward, Rewind and Mute / Unmute options. (*Note: YouTube view isn't currently supported for participants who call in with a phone- audio and video don't come through on mobile.)
Update #13: Tap into the collective intelligence of the group and crowdsource your audience with Idea Board
Want to draw knowledge from every person in your meeting or participating in your event? Use the Idea Board feature to crowdsource ideas for discussion.
Ask participants to submit their ideas for topics of discussion. Let the audience view and vote for (or against) the submitted ideas. The most popular suggestions move to the top of the list. The list of ideas can also be sorted by how recently it was submitted, randomly, or by title.
Learn more about Idea Board here in this support article.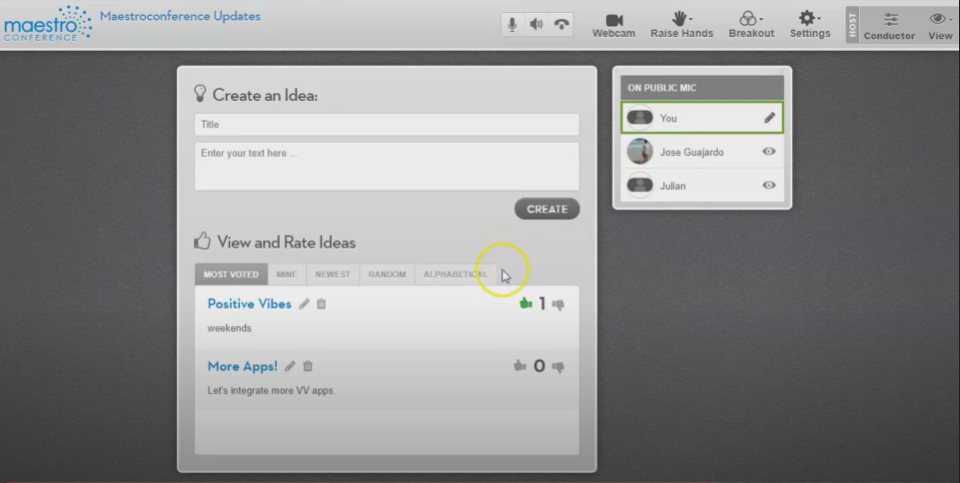 Update #14: Encourage audience participation and get your participants to tell you what they want to talk about with Visual Polls
Use Visual Polls to survey your audience, give your participants poll choices that really get to the heart of the matter, and let them answer by "raising their hands" virtually. And then share the results in real-time or after the poll has ended, with a detailed breakdown of the % for each poll choice.
Voting can be done within the Meeting and your audience can see the results real-time. Attendees may vote by pressing a key from their phone/ webphone keypad according to the choices you present (you can give as many as five options that they can vote on).
Learn more about how to run a poll here.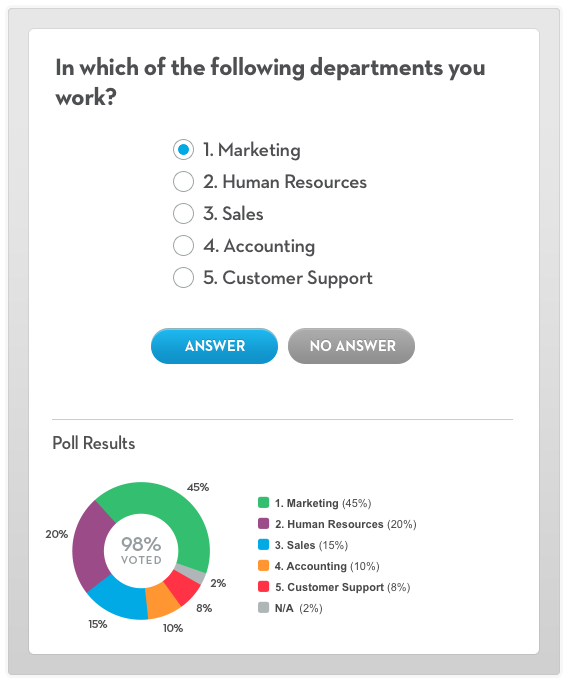 Update #15: Let your audience hear you and your messages during your events with Premium Custom Audio
Host events that get your message heard with Premium Custom Audio. Add your audio to your events with the new Custom Hold Music & Audio Cues. Premium Custom Audio lets you brand your conference by playing any custom audio file you want during your event.
Choose from our audio library or record and upload your own audio files to customize your Hold Music and Audio Cues to fit your brand.
Customize the music that plays while attendees are waiting for your event to start, or play audio cues of your choice within the meeting.
With the Premium Custom Audio feature, you can upload up to 30 audio files to play during your conference, plus 8 new hold music tracks and the ability to upload your own, all for free.
Learn how to set up Custom Audio here in this support article.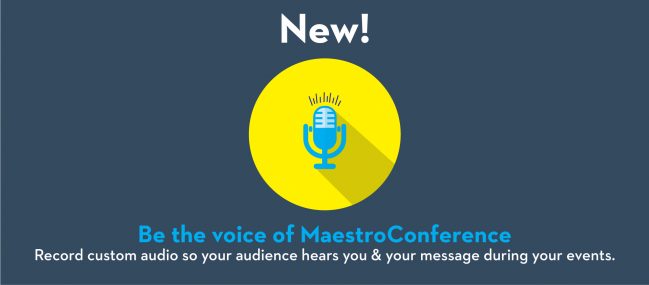 Update #16: Encourage your audience to spread the word about your event on Twitter…from directly within your meeting while it's happening live
Amplify your event, have your audience share content from the "stage" with their social networks. Use Twitter announcements to write prepopulated tweets that you can share with all participants and ask the audience to share those tweets on their social media accounts.
With Twitter announcements, you can have an assistant drafting tweets based on what your keynote speaker is saying and in real time, from directly within the meeting, share a prewritten tweet with the entire audience. And with one click of a button, your participants can share your prewritten tweet to their Twitter account.
What's Next on MaestroConference?
In addition to the many upgrades above, we're also improving how we scale maximum event size- for now (first two weeks of June 2021), we ask that you let us know if you're planning to host events of more than 50 participants (ping us at support@maestroconference.com to tell us). The platform can handle up to 500+ participants, with advanced notice so we can add servers and monitor capacity. We're working on scaling to even larger event sizes, and hope to have increased event size ready this month (June 2021).
MC Video started as an "Early Beta" product, and we've been making upgrades to the product based on actual usage and user feedback. So we appreciate every one of you who had the courage to try the product, and to give us that feedback.
We've made many advances with MaestroConference Video, and invite you to try it out and continue sharing your comments with us- we sincerely aspire to build THE platform for better video breakouts that meets all of your needs, so please share your wishlist with us. Our engineers are pushing new feature releases every week, sometimes multiple times per week, so the platform will only get better, more reliable, easier to use, and more powerful.
If you're using zoom breakouts, you'll definitely want to come back and try out MaestroConference, the feature leader in video breakouts.
We look forward to seeing you on video- on the MaestroConference Video platform!
P.S. You're welcome to join a training session with our product experts if you'd like to learn about the features available in your account before you start hosting events. Sessions are free to join and available weekly.