Our #1 Rated Crowdfunding Opportunity Closing Soon
Given the faster-than-anticipated success of our Equity Crowdfunding campaign, we've decided to close this initial round once we achieve a goal of $200,000. This will enable us to put the funds to use increasing revenue and reopen next year with a proportionately higher valuation.
http://www.wefunder.com/maestroconference
We want to make sure you have a chance to consider this opportunity to invest before it closes. We're already at 85% of our goal before we even announce this to our list. We expect to fill the rest of this round quickly and would love to have you join us before it does.
Recent Campaign Updates
In the seven weeks since our campaign launched, 240+ people have contributed more than $170,000 to funding conversations that can change the world.

Rated #1 crowdfunding opportunity on

Stratifund

(

the only 4.5 rating

)

Currently on pace for our single highest month of revenue in the company's history (as of Nov 28)

Broke into CNBC's

Crowdfinance 50 Index

, which lists the most active private companies raising capital through the use of equity crowdfunding platforms

Featured on iTunes' #1 crowdfunding podcast,

Successfully Funded

Received our two single largest investments – $10,000 each – from Jenn and Bhuiyan (thank you both for your strong vote of confidence!). Here's why Jenn decided to invest:

"I've been a user of your product for at least two years as an organizer for several progressive causes, and, as a Zoom customer, I've been very happy with the MaestroConference service and scale."

Invited to speak about Equity Crowdfunding Success Tips at the

Crowd Invest Summit in the Los Angeles Convention Center next week
Why Do People Invest in Our Crowdfunding?
We've been amazed and humbled by the support from customers, fans, and friends, both old and new alike. Why are people who've never heard of us investing in MaestroConference? Here's what a few of our newest investors had to say when we asked them that question:
Mark B: "

There are several reasons I joined but hopefully I can sum up in a few sentences. The Mission Statement (or intro) was a big part of it.  I see the vision that the company/Brian Burt laid out in the short summation video.  He seems to have a genuine passion for where the industry is heading.  The 'break out' meetings on one conference call is a great idea and the first I have heard of this.  I don't see (from my research) that any of the competitors have this feature.  MaestroConference has had a successful revenue stream year after year and it doesn't look like it will be slowing down anytime soon.  I like to be part of a company that is not stagnant and is always looking for fresh input and/or ideas to stay ahead of the competition."

Dan W.: "

I think the top reason that I invested is the fact that MaestroConference appears to take webinars and online conferences to another level. As the world shrinks due to technology, I believe telecommuting and virtual conferences will be more commonplace and MaestroConference will be well placed to deliver service that people will depend on."

Jeffrey M.:

"

There are a couple of reasons that I am attracted to MaestroConference.  One is that the world would benefit from becoming more interconnected.  MaestroConference is a big step in that direction.  Think of the things that can be accomplished and the time saved by accomplishing them by live conferencing. The other reason is admittedly more selfish.  Hopefully it will be a good investment.  Stratifund gave Maestro a rating of four and one half stars out of a possible five.  That's where I discovered MaestroConference."
We believe the conversation style that MaestroConference excels at is poised for phenomenal growth and ready to sweep the world. Our vision is grand in size and scope, and if successful, has the potential to impact the world in a positive way while being a financial windfall, in much the same way that TED Talks, YouTube, Facebook and Twitter have had a profound impact on the connective tissue of our global community while also generating massive profits.
Fundraising enables us to achieve this mission faster, more effectively, and in a more profound way. With support from our new investors through this crowdfunding campaign, we're excited to seize the opportunity in front of us.
It may not be right for you, but if you are looking for a way to invest in technology, please take a moment to find out more. You can invest in MaestroConference with as little as $100 (you can even use Bitcoin to invest). We'd love for you to join us before this opportunity closes.
For us, it's always been less about raising money and more about sharing the ownership of MaestroConference with the people who help us every day. There is no better investor than our community, our crowd of avid customers, friends and fans.
Thank you for reading. I know you may have questions and concerns about how this works, given how new Equity Crowdfunding is, so I encourage you check out the link below and reach out with any questions you may have.
To invest before the round closes out, please visit our Wefunder profile >> https://wefunder.com/maestroconference
With my sincerest thanks,
Julian Martinez & the rest of the MaestroConference team (here are a few of us)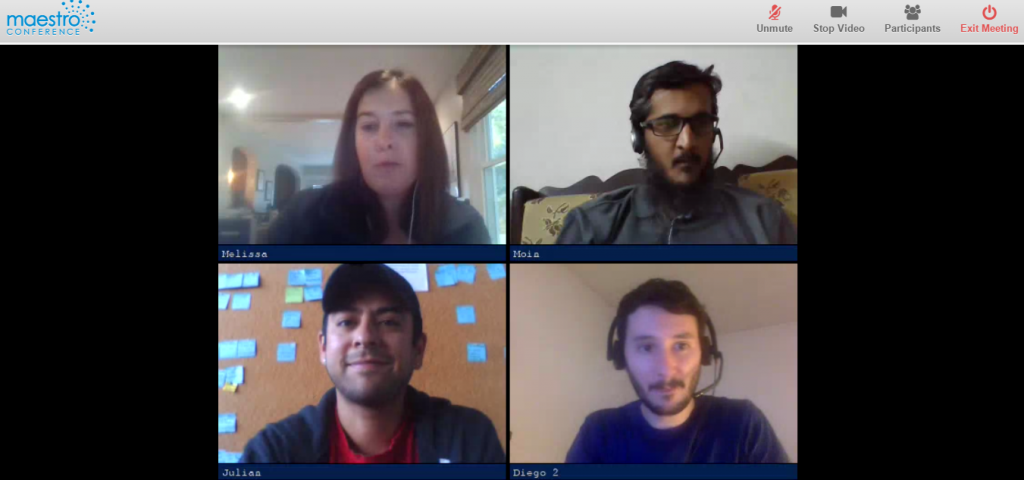 P.S. Will you help promote this to your social media channels? Here's an example tweet you could use:
Invest in a successful, mission-driven technology company. Check out MaestroConference's #crowdfunding campaign http://www.wefunder.com/maestroconference
"Regular crowdfunding is buying a product. Equity crowdfunding is buying a piece of the factory."