New Year, New You, New Us – Introducing Exciting New Features on MaestroConference
It seems as if we blinked, and just like that, 2016 is the past, 2017 is our present, and we're living out Back to the Future II with a casino owner in the Oval Office.
With a new year upon us, we reflect on what we've accomplished and look forward with hope to what this new year may bring. Although 2016 had its warts, MaestroConference was blessed with a bunch of positive developments, from our acceptance into the world's most prestigious technology accelerator to having the White House join us as a customer to the completion of a successful Equity Crowdfunding campaign. From a technology perspective, we introduced a whole suite of powerful collaboration tools, including Webphone, Live Audio Streaming, and our first foray into Video Conferencing, among (many) other new features.
We have some big things in the product development pipeline for 2017, beginning with major platform enhancements as well as our very first entrant into the Apple Store. To that end, let's get started with this first update on new features for the new year.
Video Conferencing in Social Webinar* (currently in public beta)
If you missed our final product update of 2016, you may not have heard that we launched the first phase of our video conferencing technology – Simple Video Meetings. But we're not stopping at "simple"…
We're excited to now introduce to you – Video Conferencing in Social Webinar*!
With this new feature, we've combined the power of live video with the flexibility of our Social Webinar platform. While hosting an event, you now have the ability to "enable video," which will launch video meetings directly within Social Webinar. With video conferencing turned on, you can opt to either "Show Hosts & Presenters" OR "Show Everyone" and turn video on/off via the power bar button. No downloads required, use this with your Chrome browser. (And for those of you requesting video conferencing by breakout groups, stay tuned – that's coming very soon i.e. in the next version!)
What this means for your business: you now have the ability to create powerful video presentations and put you or your presenters front-and-center during your event, or create one main video conference where anyone with a webcam can participate.
*PLEASE NOTE: Video Conferencing in Social Webinar is currently being tested in public beta, which means it may be subject to some performance issues. We advise customers to proceed with caution for the time being while we continue running stress tests to determine maximum capacity and improve the supporting infrastructure.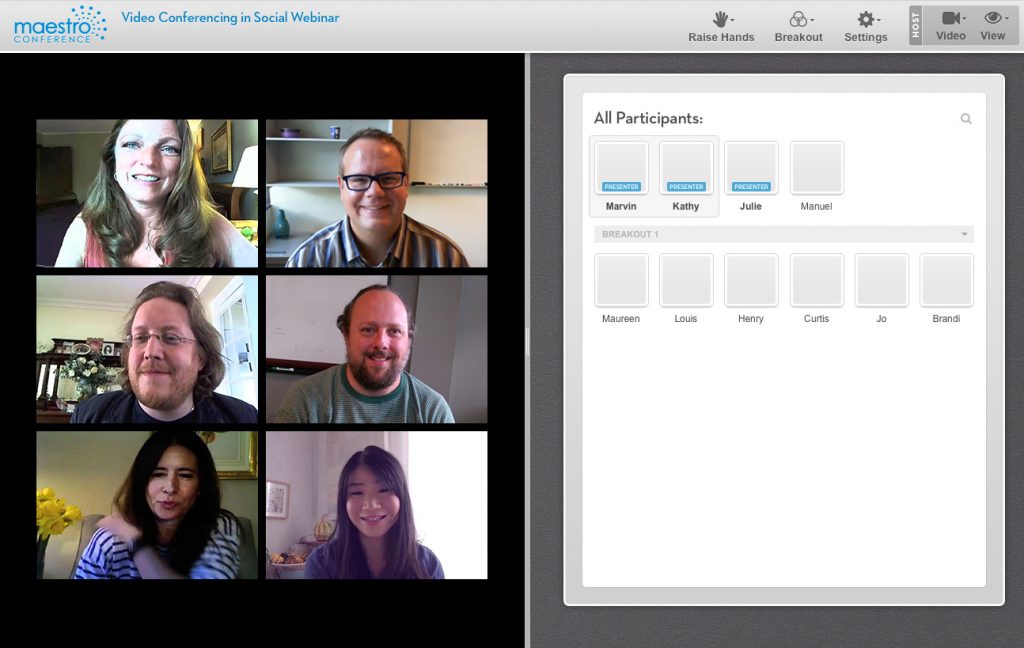 Announcing MC Opt-in Offers
In addition to Simple Video Meetings, one of the coolest new features we rolled out in November was App Integrations via Zapier. If you don't know what Zapier is, don't worry – many people have never heard of Zapier despite the fact that you've most likely used it plenty of times. App Integrations via Zapier enable you to automate your work by connecting your MaestroConference account with over 700 other web apps like your email marketing system, Google Analytics, Facebook Fan Pages, CRM and sales automation.
With this January 2017 update, we've made the App Integrations feature even more robust and powerful by introducing "MC Opt-in Offers." With the few clicks of a button, MC Opt-in Offers give you the ability to sync your account so that all of your Event Attendees AND Non-Attendees can be auto-magically added to your favorite CRM system, such as Infusionsoft, Hubspot, Zoho and Salesforce. Learn how to setup your first MC Opt-in Offer here.
What this means for your business: by leveraging this new feature, you can create very powerful automations to streamline, improve and grow your business. For example, you can encourage optins during your event by setting up MC Opt-in Offers that:
Add participants to your mailing list in Infusionsoft or other CRM systems

Subscribe them to your blog if they "raise their hand"/press a number on their phone

Assign different hand positions to different actions, such as subscribing them to different lists or buying different products or enrolling in different courses.

Webphone app
Coming soon to the Apple Store – MaestroConference's first ever app! The MaestroConference Webphone app lets you connect to your MaestroConference event from anywhere in the world using your iPhone, iPad or iPod Touch. Don't spend time looking for a phone line to join an event on MaestroConference. Simply enter the PIN from your invitation email and join the conversation, ask questions and even take part in audience polls!
No phone line required

Completely FREE, no long distance fees

High quality audio
Note: a wifi connection is currently required; the option to connect using your cell network will be available in the next update.
The webphone app is not yet available in the Apple Store. While we're in the approval process with Apple, people can download the app and learn more here on our website http://maestroconference.com/webphoneapp.  
What this means for your business: increase your event attendance. You and your participants now have the freedom to join your event on the go from anywhere in the world, for FREE! This makes it easier and faster for those who've registered for your conference to actually attend, even if something came up last minute.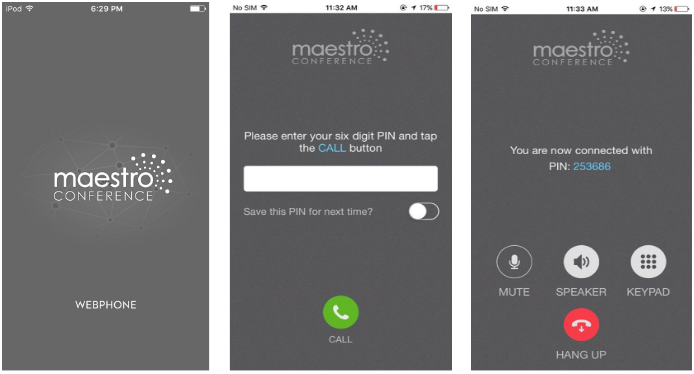 Google Docs = New Doc Editor in Social Webinar
We're making virtual collaboration easier, faster, more robust. Due to customer requests, we've replaced the original doc editor used to collaborate in Social Webinar with Google Docs as the shared document tool for editing and collaboration. Documents created by the event host are now saved directly to Google Drive rather than MaestroConference's server so that you as the host have full, immediate control over and easy access to your shared documents. 
What this means for your business: increase the impact of your events by using this more effective collaboration tool to tap the collective intelligence of your conference attendees. Most people love to share their thoughts, ideas and suggestions – using Google Docs as the doc editor in Social Webinar makes it easier and more intuitive for them as participants to share their unique insights with the group and for you as host to harvest, record and save those invaluable contributions from the group.
Conference View/Edit Enhancements
When we rolled out the redesigned Conference View/Edit interface in early 2016, customers loved how much easier it was to navigate their account and create events. However, one of the most common requests we heard – how can I sort, save, and export my list of registrants? We listened to your feedback and have made the following enhancements:
Sort and/or save your list of registered guests by clicking the various columns

Download registration information, including phone numbers, and export this valuable information as a csv file

Update your conference schedule by quickly and easily changing the date and time of your event(s)
What this means for your business: improved importing and exporting of participant data means that managing your events and registrations is now easier than ever.
If you'd like a refresher on the November 2016 updates, visit this blog post. You can also check out this growing list of new features currently in public beta. We look forward to sharing a bunch of new features with you to help take your events to an exciting new level of engagement this year. Cheers to a prosperous 2017 together!