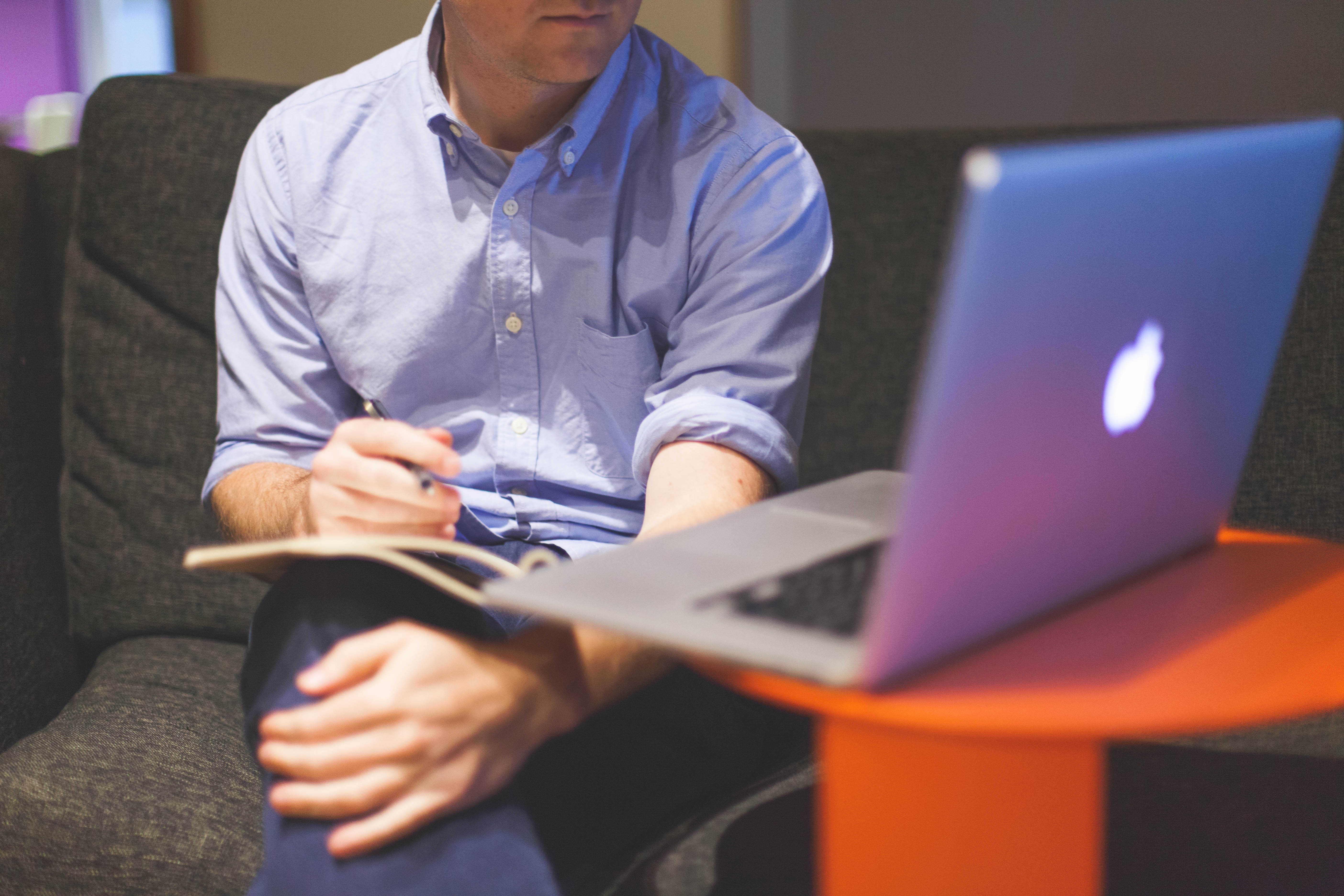 Reading Time:
6
minutes
There's a good reason many internet marketers use webinars to market their products and services. It's because they work. In fact, it's arguably the best way to convert subscribers into actual customers.

You don't need to look far for good examples. Buzzsumo is able to convert 20% of their attendees into paying customers and Grant Baldwin was able to generate over $140,000 in 6 months with webinars alone.
There's one important caveat though…Webinars only work if prospects show up.
It means, the most important issue you face as a potential webinar host is getting targeted, enthusiastic visitors through the door.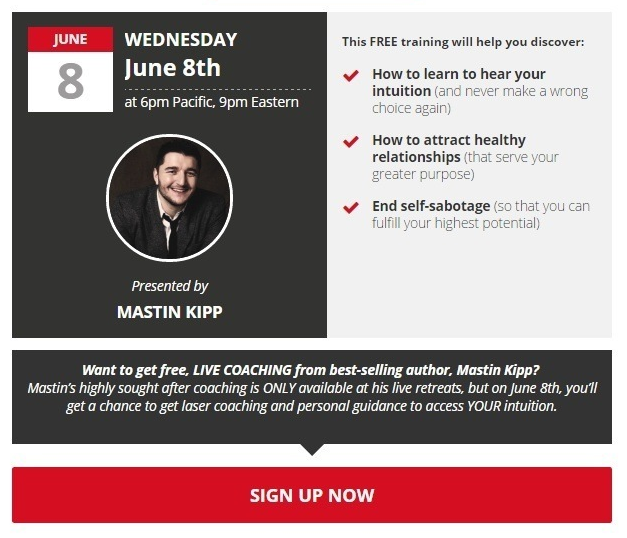 The problem is, unless you already generate droves of traffic to your online space, ramping up your webinar signups will prove somewhat challenging.
The good news is, there are several steps you can take to get people aware of and excited about attending your next webinar. Combine these tips with solid, steady effort and you'll be well on your way to generating a significant number of registrants and attendees.
1. Customize Your Design To Focus On Webinars
Hosting a webinar is a major undertaking. If you put in lukewarm effort, you'll receive less than desirable results.  
If you decide to go forward with the event, you must wholly commit to it and this requires highlighting the event as one of your main focuses on your website. This means you will need some amount of redesign work done on your website to get the event in front of more visitors.
The following are the main changes that you'll need to focus on:
Leverage Your Homepage: Your homepage is likely one of the most highly trafficked pages on your website. Anything promoted there is assumed to be important. Why not take advantage of these eyeballs to promote your upcoming webinar? You could upload a video, edit your banner or even redirect to a landing page.
Update Your Sidebar: Updating your sidebar with a relevant signup ad is a great way to promote a webinar without being intrusive.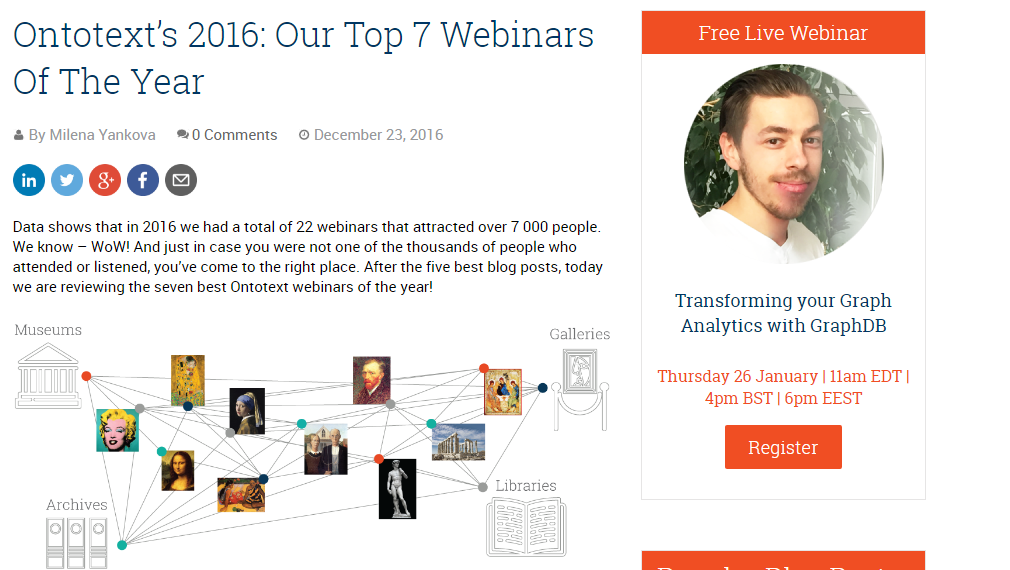 Moreover, they provide the important benefit of appearing on every page, keeping awareness alive.
Create Regular and Exit Intent Popups: Exit popups help to encourage your visitors to sign up just in case they missed your website's CTAs.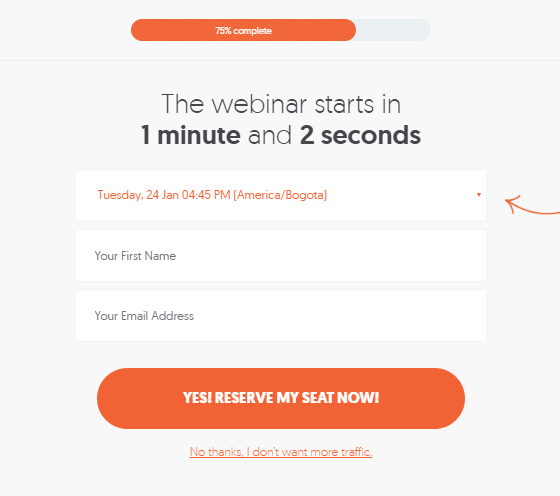 While many people find popups annoying, many marketers do very well at gaining subscribers this way; because they take the time to split test before going forward. Tools such as OptInMonster and OptimizePress will help you with specific targeting and design.
Dedicated Webinar Page
Unless you're going the unlikely route of a one off webinar, create a dedicated resource page which highlights important resources and summaries current and upcoming webinars. Take a quick look at Kissmetrics's webinar page and Moz's webinar archive.
Create a landing Page
A landing page is critical, so much so that many marketers redirect their regular homepage to their landing page, presenting all direct traffic with the webinar offer. Your landing page should highlight the major benefits of your webinar, create urgency and entice visitors to sign up. Leadpages allows you to create amazing landing page on the fly.

2. Leverage Your Regular Thank-You Page
If someone takes the time to sign up for your regular newsletter, then they are likely interested in your content. If your webinar offer is even loosely enticing, it's fairly easy to get your new subscribers to sign up for the webinar as well.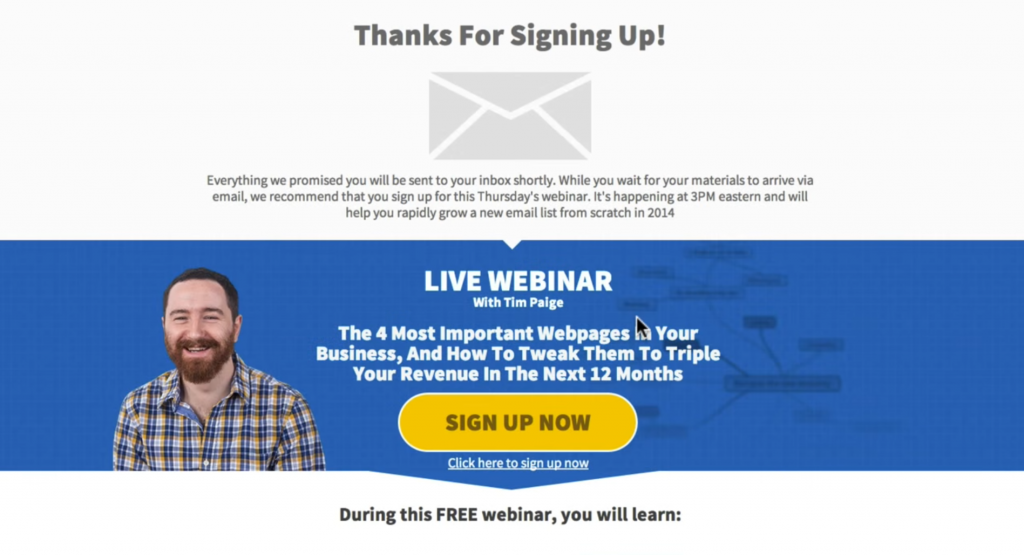 Typically, there are two important last steps in the sign-up segment of your email marketing sales funnel. Following any signup, the visitor receives a confirmation email which directs them to a thank you page.
Here's how you can make use of the latter. Create a custom thank-you page for new email subscribers. This way, you can highlight your next webinar by including strong calls to action and of course, a registration form. In fact, Jeff Wenberg doubled his webinar registration rate with this strategy.  
3. Invite An Influencer As Your Webinar Guest
It's fairly easy to realize the benefits of hosting a webinar with an influencer who has an established following and network. Their association alone will bring major clout.
Don't forget, name recognition is an important thing.
Your guest doesn't have to be on for the full event, even being on for a few minutes is enough to entice people to register.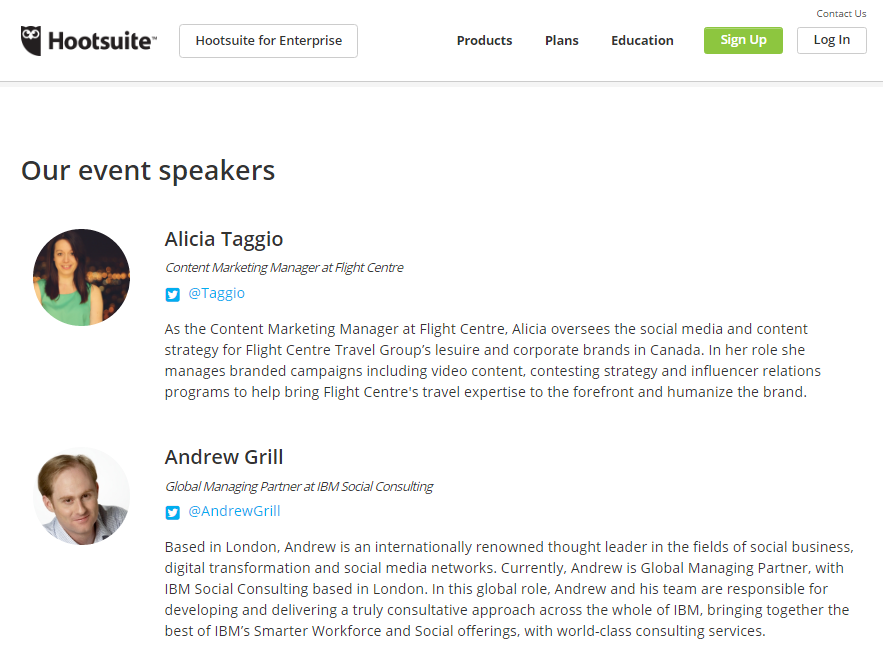 The most important aspect of this effort is to get the expert to share the event with his/her followers if possible. Check out this great example by Outbrain.
4. Create Value Driven Blog Posts and Guest Posts On The Topic
First, it's important to point out that you should not just publish blog posts about the webinar itself; simply because people are less likely to read it.
Visitors are interested in posts that provide them with valuable information and resources. While a blog post about a webinar might offer value, most will view it as purely promotional and ignore it.
Instead, publish blogs posts on the topic you intend to explore in the webinar. Provide valuable information and at the end of it, provide an opt-in and strong calls to action.
Clearly, getting sign-ups via this route is much easier since you would have already provided some amount of value.
Still, we can take things even further.
If your blog is scarcely read, then you should instead put your efforts into getting at least a guest post published on a popular blog. If you already contribute to popular publications in your industry, then great.
Otherwise, you'll need to pitch major blogs with strong ideas on topics related to your webinar. The key here is to encourage readers to sign up for your upcoming webinar within your contributor bio or the byline.
5. Make Use Of Social Media.
Social media is very effective at promoting online events, especially webinars. The immense advantage is the fact that you won't over-saturate your audience with the same message as you could easily do with email.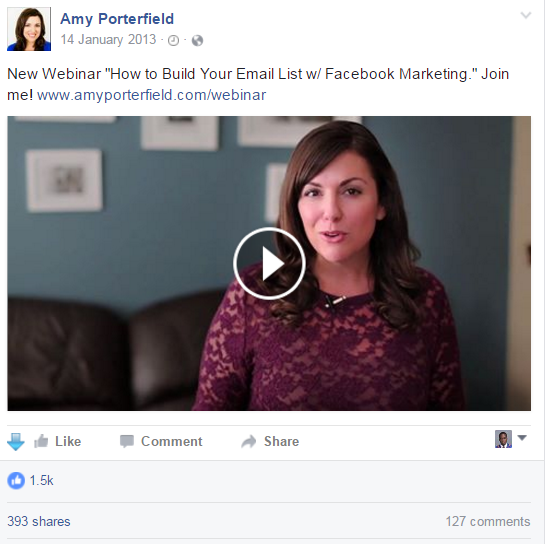 Gain the benefits of social media by doing the following:
Hashtags: Choose a hashtag for the event and use it everywhere!
Run Contests: Contests that offer an exciting prize are often enough to get people to take action.  You could, for example, ask readers to tweet something related to the webinar, with the most retweeted being the winner and so on.
Create a Publishing Schedule: Create a schedule to update your various platforms with relevant reminders as the webinar approaches.
Banner Images: Update your banner images on all your platform with engaging, vivid images that focus on conversions.
Make Use Of Paid Media: We all know that organic reach is wavering on most social platforms. In today's world, it's pay to play. Set aside a budget dedicated to social PPC ads. It's an easy way to get the word out and drive attendance.
6. Use Live Streaming Video To Create A Buzz
Live streaming is all the rage.
There's good reason, it's one of the easiest ways to engage with audiences on social media.
You can use this opportunity in two ways:
You can occasionally pop onto your preferred platform whether it's Periscope (best choice if you are looking to grow your audience from scratch), Meerkat, Facebook Live or something similar and drop a few quick tips about a topic related to your webinar and encourage people to sign up for the event.  

Close to your webinar's start time (say an hour before), jump on and build a quick buzz around the event.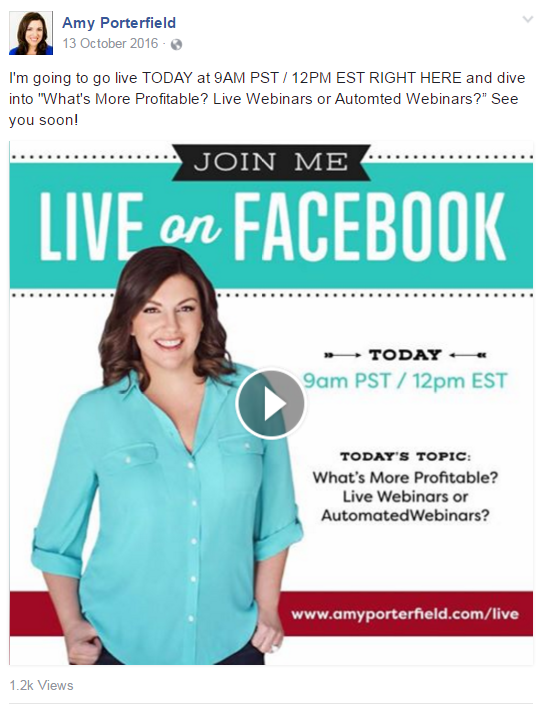 Live streaming is an easy way to get more traffic to your webinars by reminding people about them.
Remember, not everyone has automatic email notifications. As such, it's fairly easy to forget about upcoming webinars even if you intend to attend. Since people are always on social media, getting in front of them at the right time can mean the difference between a few visitors and filled seats.
7. Send Relationship-Building Reminder Emails
We live in a world of conflicting priorities. Things come up. People forget. Moreover, typically, people will likely have something else to do in the same time slot your webinar is scheduled for.
It follows that you can only hurt your chances of maximizing your attendee count if you neglect to occasionally remind your subscribers about your webinar.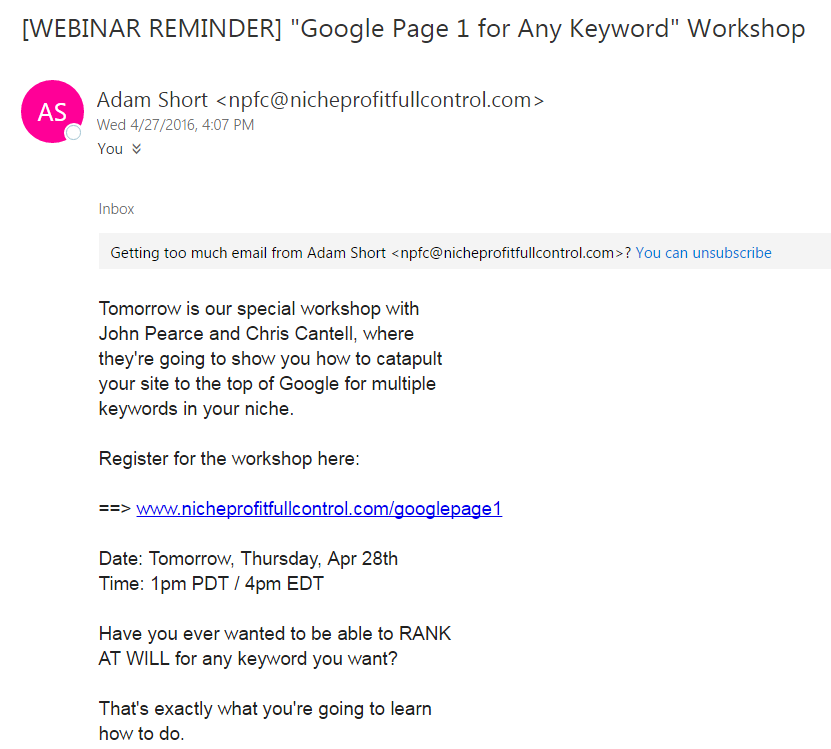 This doesn't mean you should be intrusive. A typical schedule is sending reminders two weeks, one week, a day and an hour in advance of your webinar.
More importantly, you should deliver value with each reminder. Apart from forgetting that they registered for your webinar, some registrants will forget why they registered in the first place. Include your relevant blog posts/guests posts and tips, mention the value proposition, add teasers and use scarcity persuasion principles to attract subscribers.
Don't Forget The Essentials
Finally, it's important that you pay close attention to the fundamentals of your promotion strategy to get more traffic to your webinars:
Promote A Special Lead Magnet: Create a free lead magnet that visitors will be excited about, whether it's a cheat sheet, coupon or discount. Excited registrants turn into excited attendees.
Run Your Webinar At Multiple Times: Run repeats for people who can't attend the main event. You could also create an on-demand version instead.
Find A JV Partner: This won't apply to everyone (and it's not necessarily essential), however if you are able to establish relationships with other marketers within your industry, you can easily partner with someone who is willing to promote your webinar to their email list with the promise that you will do the same in the future. Ordinarily, this is more effective and less expensive than paying for ads.
Choose The Right Day Of Week: Typically, you'll want to avoid running you webinar on the weekend and instead aim for midweek.
Conclusion
You'll be hard-pressed to find a marketing strategy that is more leverageable and profitable for you and your business than a well-executed webinar. Start with the essentials and take the time to plan and execute a strategy with the above tips in mind. If you've already gained some traction in the marketplace, position yourself to take advantage of your status and the benefits will be exponential.