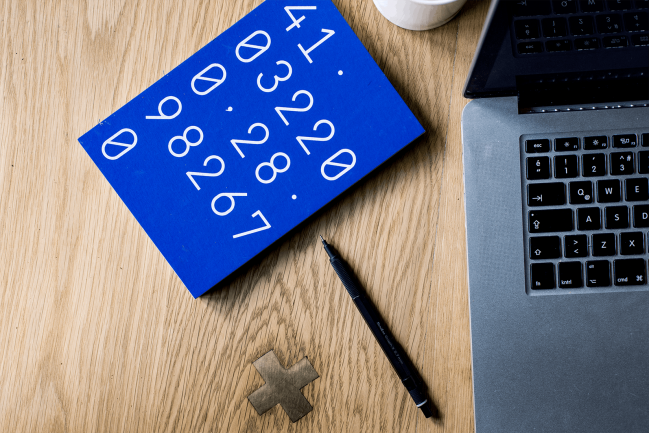 Reading Time:
6
minutes
There is a good chance you've attended a webinar before and perhaps you've wonder 'just how much did it cost to put on this event?' You may have plans of conducting your own webinar and you're wondering how much it will set you back or whether it will be an affordable, ROI-positive venture.
As you might expect, webinar costs can vary substantially. Costs depend on several factors including the duration of the event, attendee count, and technology, among a wide variety of other things. Since these costs are very much on a sliding scale, it is difficult to give an accurate estimate without knowing more about what you are planning for your event.
On the other hand, we can easily generate a baseline price tag for a regular webinar using certain assumptions based on definitive stats. Let's say this baseline webinar is as follows:
Number of attendees:

About 250 (webinars average about

390 attendees

)

Duration:

45 Minutes – 1 Hour (webinars average at about

50 minutes

)
You can then use the average cost of that hypothetical event as a baseline against which you can estimate the costs of webinars on a larger scale.
In addition, this breakdown is for someone who is just starting out and doesn't have the massive marketing budget to get all the expensive promotional bells and outreach whistles. Nevertheless, with the following budget, you will be able to pull off a quality event, with no major setback.  
So how much does a webinar cost? Here's the breakdown.
Webinar Equipment
The first thing you probably assumed you need is paid access to a webinar platform. However, before you go looking for software, you need to get your hardware up and running first.
Let's see what you'll need:
     Laptop: Clearly you need a computer with at least the basic memory, CPU, and accessories; however, it's likely you already have one, so we can leave this cost out. 
While most laptops come with built-in webcams and microphones, you may want to upgrade to more reliable devices if you're looking for a professional experience:
     Webcam: You really don't need any type of special video equipment and you may or may not want to include video (i.e. apart from screen recording), but for a truly immersive experience, a quality, HD webcam, such as the Logitech HD Pro Webcam C920 is a smart choice.
      Cost: About $50
     Microphone/Headset: To ensure your attendees hear you clearly, you'll need a high-quality headset or microphone such as the Samson Meteor or Audio-Technica AT2020. 
      Cost: About $60
Once you unpack all that equipment, set the hardware up and move on to looking for a good webinar platform.  
A Solid Webinar Platform
The webinar platform that you choose can make or break your event. The platform that you choose will determine several quality factors for the event including:
Ease of use (especially for attendees)

Special features

Audio and video quality

Stability
Now, webinar software pricing is often straightforward since platform providers let you select from a variety of plans depending on your needs. As an example, for 250 participants, MaestoConference stands at $200/mo; a pretty decent price for a high-quality webinar platform.
In any case, there are several factors to be considered when choosing your plan, including:
The number of attendees.

Whether you are going to host your webinar yourself or with a co-presenter.

Monthly fees or annual billing plan. Annual plans often attract discounts and are a good choice if you intend to host webinars on an ongoing basis.

Free trials are important so that you can test run the platform. It's a good way to see if the platform meets your specific needs well in advance of the real event.

Pay Per Minute/Per Event: Unless you are quite sure about your attendee count, paying a rate based on the number of attendees is always a gamble. If the audience count ends up being small, your costs will be low and you'll avoid wasting funds. On the other hand, if you attract a larger audience than anticipated, you might blow your budget.

Type of webinar solution (self-service or full-service). This depends on whether you prefer to do everything yourself or leave the responsibility to the platform providers (i.e. payment is per webinar and no further investment is necessary).
Why Not Use A Free Webinar Service?
You might be wondering why anyone would want to use a paid platform webinar when there are several free hosting services available online. Quite simply, you get what you pay for. In general, free webinar services tend to be severely limited and intrusive since they're typically supported by third-party ads. Moreover, there's often little to no technical support or other important services. Bottom line, it's a waste of your time to go with a free service, so don't be penny wise and pound foolish.
Promoting Your Webinar
This one will certainly eat away your budget if you are not careful. Marketing is essential if you plan on getting droves of visitors streaming in. While there are free methods to promote your webinar, it is still a good idea to set aside funds to accelerate your reach.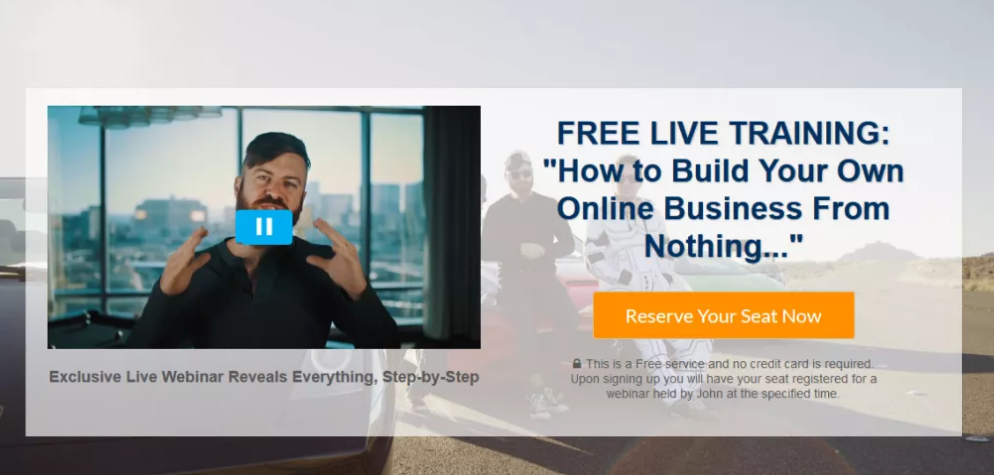 Of course, the degree to which you need to promote your webinar will also depend on certain factors such as:
How you engage with your current customers: Your current marketing resources will determine how much effort and money you need to spend. For instance, if you have a large email list with engaged customers or massive social media accounts, you'll have an easier time spreading the word and you'll spend less.
Your marketing strategy: How will you actually promote the event? You can go the route of using social media and sponsored posts. For example, you could also use PPC/PPV such as Google AdSense or the increasingly popular YouTube advertising. All these different channels attract different costs and will yield different results. Keep in mind that social media is pay for play, so you need to invest to attain any sizable reach.
Here's an example:
Let's say you run a small Facebook ad campaign to your Facebook fans to get signups. If you create a fairly decent ad, target reasonably well, and convert fairly well, you may end up paying an average of $0.23 per lead. Of course, only a fraction of the people who hit your landing page are going to sign up for the webinar in the first place. If you attract 2000 visitors, at a 30% registration rate, this results in 600 signups for the webinar and almost 250 people may end up attending live (a 40% attendance rate is average by industry standards). At this rate, you will end up paying $460 for 250 people to attend.
It's also a good idea to take advantage of the webinar platform's event sharing tools. For instance, MaestroConference offers a Facebook Event Sharing Feature that allows registrants to post about your webinar on their timelines or share links to the event.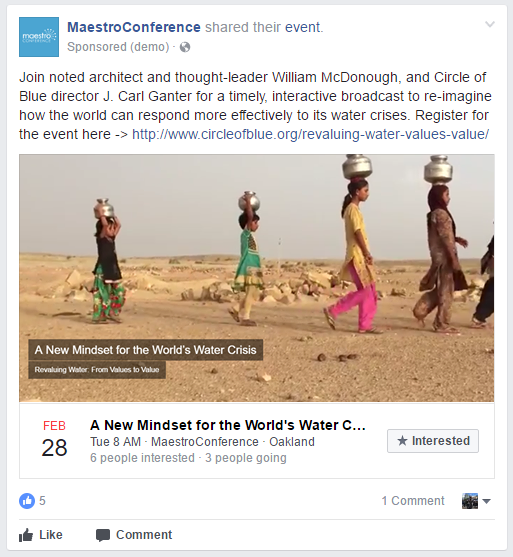 Your choice of marketing channel(s) should depend on your audience and how you feel you can best reach them.
Marketing Resources
In addition to the ad budget calculated in the scenario above, you will also need to spend some amount on properly designed resources such as banners and video clippings. We can add an additional $300 for this purpose.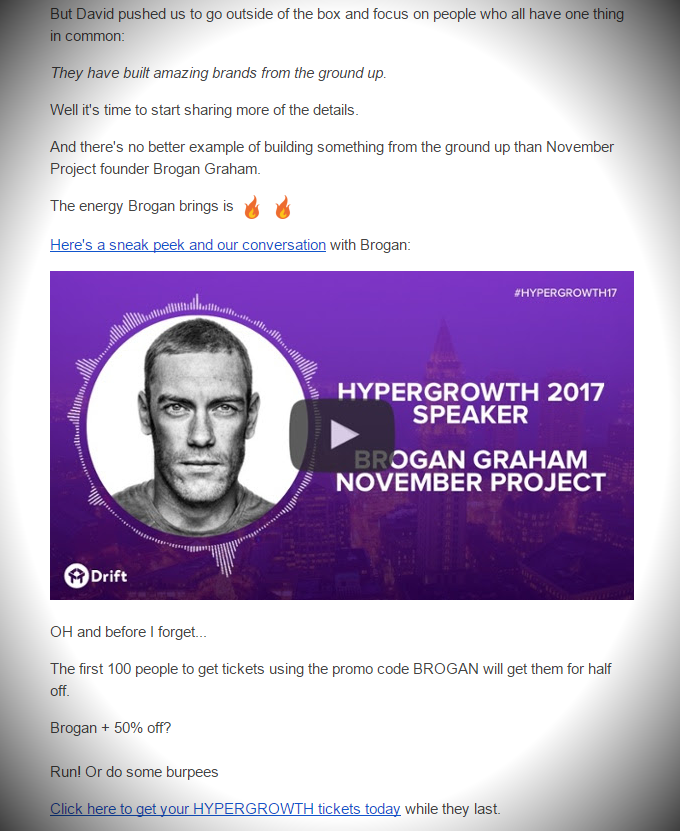 Cost: Varies, but for the sake of this baseline calculation and considering the ad budget and marketing resources described above, let's assume your webinar promotion doesn't need to exceed $800.
A Robust Internet Connection
This might seem simple enough. As the webinar host, having a reliable internet connection is very important. You simply cannot risk downtime as a result of a faulty connection. You will lose attendees and moreover, it is unprofessional and tacky.
How do you know how strong your internet connection is? When checking your internet speed, you need to look for download/upload data speeds (upload speed is often much slower than download). While the key for webinar participants is the download speed, the upload speed requirement is important for you, the presenter.
A good internet speed is of around 25/10 Mbps, that's 25 Mbps download and 10 Mbps upload. That's the bare minimum to guarantee stability. You can check your internet speed yourself using speedtest or a similar tool.
Cost: This cost is not really as a direct result of the webinar. However, you may need to upgrade your connection for about $50 extra.
Guest Speakers and Assistants
Unless you are delivering a simple webinar with a few slides, being a one-man show won't turn out too well. You'll likely need help during the event.
You don't necessarily need a co-presenter or even a guest speaker but keep in mind that it's easy to leverage personalities that your customers/prospects already follow and admire. However, you may need assistance with technology as well as someone to fetch information, answer questions, jot down questions, provide back-end support and just to keep things organized. For larger events, you may decide to take on the services of a dedicated event facilitator or even an expert host.
Guest speakers may or may not require payment. In most cases, you can forgo monetary payment by offering gifts such as allowing the person to advertise his/her products/services or a free subscription to your product. As for assistants, your webinar platform may have event technicians to run the logistics for you. For admin work, you can either get the help from a family member or hire a freelancer who has the experience.
Cost: About $225 (Assuming free guest speaker and paid technician/assistant)
Over To You
So, here's the final breakdown:
Equipment and Software: $110

Webinar Platform: $200

Webinar Promotion: $800

Internet Connection $50

Assistant & Event Facilitator: $225 
Total Webinar Costs: ~ $1,385
There you have it, the baseline cost for a quality webinar with 250 participants. This might seem to be a massive investment for a measly 250 leads. However, you need to consider the fact that these people are far along your funnel. At this point, all you need to do is to convince these 'hot' prospects to take action, which is much easier at this stage. Moreover, you need to consider the lifetime value of each lead and not just the immediate value of a onetime purchase.  Additionally, this cost is for your first webinar run. For future webinars, you wouldn't need to purchase equipment anymore so the expenses will be significantly reduced.  Finally, as stated before, you'll need to adjust these costs based on your own unique needs.
So, how much have you spent on your webinars? We'd love to hear any real-world examples of how much you've invested to run your first or 101st webinar.